SD AHEC History
Over 30 years ago, South Dakota had an Area Health Education Center (AHEC) with five offices statewide. This original AHEC was supported by grant funding until programmatic changes at the federal level altered the funding mechanism. This left South Dakota's original program with little monetary support, although the Yankton Rural AHEC remained a viable organization.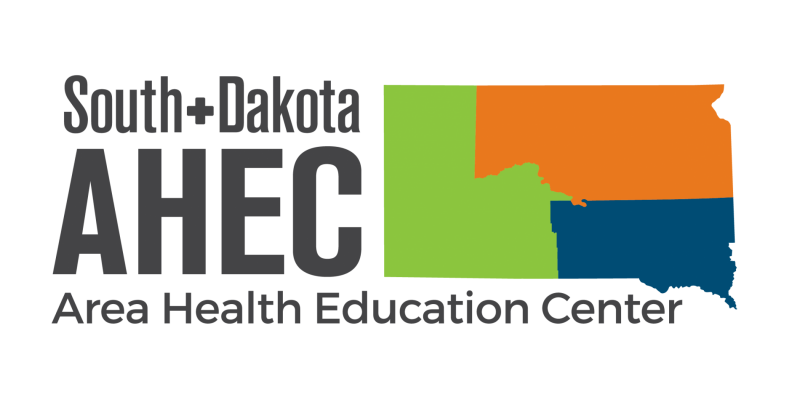 Following a statewide summit of stakeholders in 2008, work began on securing a grant to reestablish an AHEC in South Dakota, which was submitted in January 2009. Notification of the initial three-year award was received in August 2009.
The South Dakota AHEC program office was established in September 2009, within the University of South Dakota Sanford School of Medicine's Department of Family Medicine. An advisory board and advisory panel were named. The board meets quarterly and the panel meets once per year. The Yankton Rural AHEC was re-established as an officially recognized center at this time, with its own advisory board and advisory panel in place.
In the fall of 2010, the program office made the decision to use a Request for Proposals (RFP) process in naming the second AHEC. The RFP was distributed widely, resulting in four applications with the South Dakota AHEC Advisory Board awarding the grant to the Collaborative for a Northeast South Dakota AHEC following a lengthy proposal review and site visit process. An advisory board and advisory panel were subsequently named.
A five-year competitive continuation grant was submitted to the Health Resources and Services Administration (HRSA) in February 2012. The University of South Dakota Sanford School of Medicine was notified by HRSA in August 2012 that the South Dakota AHEC had been awarded a five-year continuation to further the valuable work of developing and supporting the state's health care workforce.
During the fall of 2018, the program office began another Request for Proposals (RFP) process to create a third SD AHEC site. The RFP was distributed and resulted in the South Dakota AHEC Advisory Board awarding the grant in early 2019 to the Collaborative for a West River AHEC to be located on the campus of Western Dakota Tech in Rapid City. An advisory board and advisory panel were subsequently named.
The South Dakota Area Health Education Center is funded by Health Resources and Services Administration Bureau of Health Workforce cooperative agreement #U77HP26850 through Title VII of the Public Health Service Act. Additional funding to support South Dakota AHEC is made possible through the contributions of its academic and community partners.
---
National AHEC History
The AHEC (Area Health Education Centers) program was developed by Congress in 1971 to recruit, train and retain a health professions workforce committed to underserved populations. The AHEC program helps bring the resources of academic medicine to address local community health needs. The strength of the AHEC Network is its ability to creatively adapt national initiatives to help address local and regional healthcare issues.
The purpose of the AHEC program is to meet the needs of the communities they serve through robust community-academic partnerships, with a focus on exposure, education, and training of the current and future health care workforce, such as the development of an AHEC Scholars program. AHECs have a continual focus on improving the health care system by working with academic institutions, health care settings (including CHCs), behavioral health practices, and community-based organizations. Through these longstanding partnerships, the AHECs employ traditional and innovative approaches to develop and train a diverse health care workforce prepared to deliver culturally appropriate, high-quality, team-based care, with an emphasis on primary care for rural and underserved communities.
AHECs are embedded in the communities they serve, positioning them to respond rapidly to emergent training needs of health professionals, health professions students, and interprofessional teams on issues associated with natural disasters, disease outbreaks (e.g. Zika), and substance use disorders.
Today, 46 AHEC programs with more than 261 centers operate in almost every state and the District of Columbia. Approximately 120 medical schools and 600 nursing and allied health schools work collaboratively with AHECs to improve health for underserved and under-represented populations. The national AHEC network consists of more than 300 AHEC program offices and centers, serving over 85% of the counties in the United States, with more than 45 years of experience.
---
Vision, Values, Goals
VISION: The West River Area Health Education Center (WR AHEC) fosters a continuum of interdisciplinary health professions education focusing on the healthcare needs of the most underserved in our state. This is accomplished through academic-community partnerships in collaboration with state agencies and organizations to improve the supply and distribution of a culturally sensitive, quality healthcare workforce.
VALUES:
Innovation. The West River AHEC promotes a culture of continuous improvement and implementation of novel ideas to ensure that it stays relevant and makes a meaningful impact to healthcare in SD.
Collaboration. The West River AHEC partners with like-minded organizations, academic institutions, and healthcare agencies to leverage programs and resources to connect students with careers in healthcare in SD.

Excellence. The West River AHEC commits to sustaining the highest caliber of programs and services offered while meeting the Mission and Vision of the organization.
---
Click here for the West River AHEC STRATEGIC PLAN
GOALS: West River AHEC is committed to providing the following services and resources for our stakeholders:
Health Profession Students
AHEC clinical training placements put health professions students in a variety of real world settings, such as migrant, urban, and rural community health clinics and health departments that provide healthcare to rural and underserved populations.
Students who participate in AHEC service learning programs develop an awareness of the economic and cultural barriers in health care delivery and have a better understanding of the complex needs of rural and underserved communities.
AHECs are uniquely qualified to facilitate clinical placements based on their linkages to academic centers, local healthcare resources and community partner organizations.
Connecting students to community populations helps facilitate future engagement and network alliance building for health career students to remain in their clinical practice regions and continue providing more sustainable healthcare in rural and underserved areas following their training.
Health Careers
AHECs are committed to expanding the health care workforce, while maximizing diversity and facilitating distribution, especially in rural and underserved communities.

AHECS offer creative, hands-on and innovative health career curriculums for pre-college level students.
Health Professionals
AHECs provide accredited continued education programs and professional support to meet the needs of healthcare professionals, especially those practicing in rural and underserved areas.

Development of programs designed to enhance clinical skills and evidence-based practices, while helping support academic progression and development of high-quality certification levels that allow professional development to expand to the full scope of practice.

AHECs focus on recruitment, clinical placement and retention activities to address community and state healthcare workforce needs customized to their regions.
AHECs provide support services for information dissemination on healthcare issues and participate in collaborative community-based research.
Communities
AHECs are designed to be responsive to local health needs and serve as an important link between academic training programs and community-based outreach programs.
AHECs provide innovative, collaborative and interprofessional responses to current and emerging health issues.
---
Brochure
Download the West River AHEC brochure
---
Staff
---